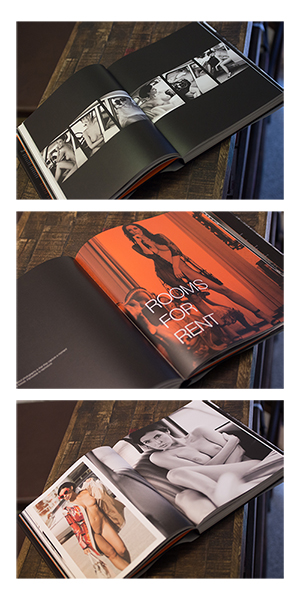 Photographic Collage of "The Book", 2016. Pictures copyright by Martin Wieland.
"The Book" – tribute to femininity – by Martin Wieland

Martin Wieland, one of Austria's most successful nude photographers, defines the boundaries of nude photography with his first volume, The Book. Just the raw data speaks an imposing language: 29 x 36 centimeters large, 336 pages thick, 3.7 kilograms heavy, more than 270 photographs in color and black and white of 44 stunning models. Printed on and tied in high-quality materials, a new, desirable standard work of nude photography is presented here. Martin Wieland visualizes masculine dreams and shows self-confident, proud women, who are aware of their beauty and charisma. Sexy, erotic, elegant, dirty, naked. Whether in color or black and white, Martin Wieland is a master of sensual staging, the authentic situation two counterpoles, which connects the photographer to an exciting whole. The Book makes the heart of every lover and connoisseur of nude photography beat faster and is a tribute to femininity. Created by the oculist Martin Wieland for eyeslike you.
The book, 336 pages, with over 270 photographs in color & black and white is available directly at www.martinwieland.at
Artdirecton/Concetion/Graphics : Dietmar Halbauer